Success Stories
Cookie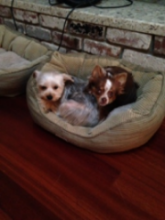 Cookie was adopted in March 2014 by a loving family with 2 Yorkie brothers. She was rescued by WOOF Animal Rescue several months before from a gas station, where she had apparently been "dumped". Our only speculation as to why someone would do something so cruel is that she is blind in one eye. A quote from her new mom - "Cookie is sweet, loving, affectionate and we attribute all of her beautiful qualities to the love and care that her foster family provided to her. This wonderful family gifted us a precious little gem and we will forever be grateful to them for trusting us with darling Cookie. Today I gave Cookie a bath and she was not at all bothered by it. She even let me blow dry her hair on a low temp for 15 minutes! What dog does that?!?! Thank you WOOF Animal Rescue!!!!"
Tessa (Maizie)
Tessa is doing very well! After a few days, we changed her name to better suit her emerging personality. We call her Maizie now - or Crazy Maizie when she's particularly excited! :-) Thanks so much for everything you do. Maizie (né Tessa) is a wonderful little lady and we're so glad to have her! 
Elvis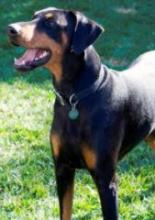 Elvis was rescued in 2010. His owner could no longer keep him. From his forever Mom "He is very happy in his new home where he goes for long off leash hikes at Wild Cat Canyon in Richmond, CA. He and his new sister Bella bonded almost immediately and have been inseparable ever since. At 90 plus pounds he thinks he is a lap dog and is very in tune to his humans. Even the fact that he has selective hearing has become quite a charming part of his personality :). Always consider adopting, I always have and have loved one wonderful dog after another."
Kodi (Toby)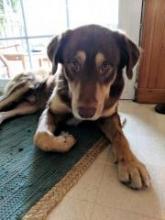 Thank you for making this adoption possible. We really already love the little guy and can't imagine a better dog for us.
Ace (Leo)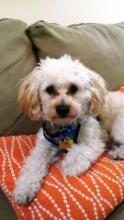 The household feels more complete with him in the family; everything seems to be going really well and he is such a great dog.
Tobi (Romeo)
Tobi instantly brought so much love to our family. He transitioned into our home pretty quickly.  He rides along in the car, walks around the condo complex, takes a weekly bath and sleeps at the foot of our bed. The best part is when we're all home together hanging out on the couch and Tobi lays happily on my daughter's lap. We are one incredibly grateful family! Thank you WOOF Animal Rescue!  
Hank (Charlie)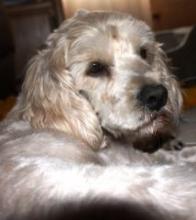 We love him so much!!! He is the best boy ever and just the most wonderful addition to our family. He is perfect. Here are some pictures of him and a video of us playing fetch. Hope all is well with you. Thanks again for giving our boy a good home!
Shane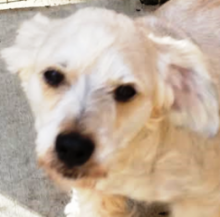 "Everything is going so well!  Shane (now he's called Finn) soon bonded with us.  He's such a perfect dog in every way! We love him so dearly.   Thank you and your team SO much for all your help and time!  It was such a pleasant experience all the way and I just can't thank you enough for all your work.   My 2 year old daughter and Finn take naps together.  They do everything together now.....  "
Rhina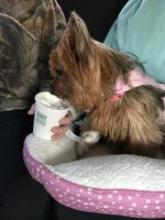 She is fantastic!!! It is a match made in heaven!! We are so incredibly thankful that u saved this precious girl. We love her independence, and treasure her loving snuggles. By the way, she loves clothes!! Rhina having her first pupachino at Starbucks. Loves to go for rides in the car!
Niko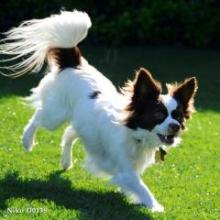 Niko is a very curious and loving dog. Three of the grandkids came over to see the new dog and he was a perfectly behaved puppy. He has the best personality and loves to play with all ( including our Great Dane). Ginger and Niko spend the day chasing each other around the yard and playing tug of war. We have all fallen in love with him. Thank you for taking such good care of him during his early life.
Sami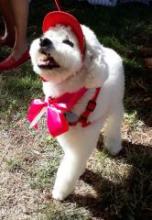 In February of 2016, after extensive medical treatments, we unfortunately lost our little rescue pup of eleven years.  Grieving, we didn't think we'd ever find one that would fill our hearts as much as little Nicky did.  He had not only filled our hearts but was also a Hug A Pet where he and I would visit Rest Homes as well as the Library where children would read to him spreading his love wherever we went. After months of grieving. although deep down feeling there could never be another to fill that void, I began a casual search on various rescue sites in our area.  My husband and I would never consider buying a pup from a Breeder knowing there are so many loving dogs out there only wanting to be given a chance and with so much love in their hearts. In June of 2016, I saw a posting from Woof Rescue of a cute little white pup that had been found wandering the streets and inquired if we could meet him, all the while still feeling he couldn't possibly fill our void but nonetheless feeling compassion for him having had a rough time. We set up a meeting at the Niles Dog Show and arrived early that morning and waited for the Foster Family to arrive, both my husband and myself a little doubtful due to the fact he was stated to be a Toy Poodle and didn't consider ourselves "Poodle People"! A short time later, I turned around and glanced up towards the parking lot and spotted a little white pup not walking but prancing our way!  (My husband later stated he knew I was a goner from that moment forward)  We were immediately introduced to Sammy and upon asking if I could pick him up, he not only was friendly but actually placed his paws around my neck hugging me back in return!  Had we found our pup? It is now a year later and we often state that our little Nicky must have sent Sammy to us to again fill the void in our hearts with love. Sammy, according to our Vet. is now three years old, two when we adopted him, and immediately adjusted to our home and lifestyle.  He was housebroken already and never slips in the house, and although crate trained for evenings which we had never done, now sleeps in the bed beside me and if I happen to stay up a little later than normal, will head towards the bedroom to remind me it's time for bed!  He doesn't favor either of us when it comes to spreading his love and during the day while my husband is at work he will follow me wherever I go and either jump on my lap or lay at my feet if I am doing something.  We take our walks, myself in the mornings, my husband in the evenings keeping all of us healthy and couldn't be happier with him being the smartest pup we have ever had as well as behaving as a gentlemen when we travel and while staying in hotels or homes that we rent while on vacation. Although we didn't know upon adoption, Sammy does not shed, and thoroughly enjoys his grooming every five weeks where he is trimmed in a Teddy Bear cut (no poodle cut for us!) and will actually proudly show off his appearance by prancing around the house and yard!  Such a proud little boy! We made it a point to not only visit the pound since his adoption but Woof Rescue at the Dog Show as well, to show that we all contributed to not only saving Sammy's life, but our life as well by once again filling our hearts with love!  I just wish everyone would give a Rescued pup a chance rather than buying a pup from a Breeder or shop.  They have so much love to give and we have personally found that they remember and know you have rescued them and show their appreciation every day through their companionship and love With heartfelt thanks.
We are in love with our furry son Dave!
We are in love with our furry son Dave. He loves squeaky toys, naps under my desk and saying hi to everyone when we go on walks. He knows how to sit, shake and sometimes knows how to come, work in progress. We are so happy we rescued him and so excited for the journey ahead! Thanks WOOF Animal Rescue for our new addition!
Mickey!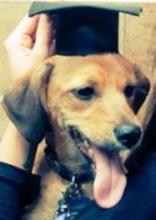 "I found Mickey on Petfinder.com as a puppy at Love Woof, and couldn't be happier with my experience with the organization or Mickey himself. He is truly my best friend and I don't know where I'd be without him. We have so much fun at the park and walking everyday. He gives me a great reason to get out for some exercise! This organization does so much good for many animals (and people). I can't thank you all enough."
Oslo's (Roo) one year anniversary in his forever home!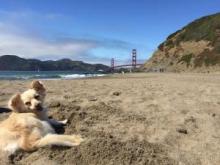 Thank you WOOF Rescue for bringing Oslo (formerly Roo) into my life one year ago! To celebrate Oslo's "adopt-a-versary," we spent a beautiful Sunday hiking along the SF coast and exploring the beach. Thank you for all you do!
Oreo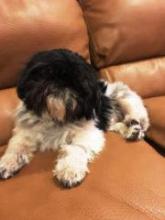 It was our first time adopting a dog, and we tried applying for a dog from other rescue agencies who weren't as friendly or helpful as we thought they would be. Thankfully, we found Woof Rescue, a group of the friendliest and most sociable people ever, all of whom made our adoption process super simple and a positive one. Woof Rescue did such a great job quickly getting to all of their applications and considering all factors for the right fit. They did not have any biases with us (as potential first time dog owners) and they treated us with the utmost respect during the adoption process. Not all agencies are like this. Since bringing home our new family member, we have watched our dog open up with love, excitement, curiosity as well as his natural instincts of looking after us humans. When Woof Rescued found him, he was in poor health but thankfully they cared enough to get him the best care possible. Today, he is in great health, loves to run around, and really loves to eat! His coat is healthier than ever, his spirits are high, and he is just a really great dog to have around. We can't thank Woof Rescue enough for making the right match!
Naga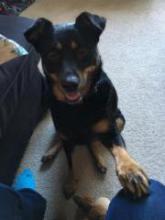 We are in love with Naga! We've had her for a little less than a month and she already feels like part of the family. We love how excited and affectionate she is when we get home! We really enjoy taking her on long walks, so she's also helping us stay active. Best decision ever to adopt her, thank you WOOF Animal Rescue for bringing her to our lives!
Harley (Foxie)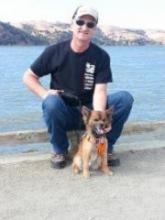 We rescued Harley (aka Foxie) 2 weeks ago. He is an awsome dog and we love everything about him. He has definitely helped to fill the hole in my heart after losing my Molly Dog of 15 1/2 years. Thank you Woof Rescue!
Kobi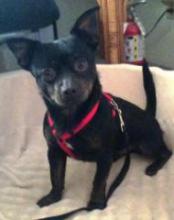 I became a volunteer for Woof Rescue a year and a half ago. I have fostered eight dogs and it was a very gratifying and joyous thing. Then I got my eighth dog. His name is Kobi. It was love at first sight. He is an old soul with all the energy of a puppy. I have a seven year old Border Collie named Pepper. Kobi has brought out the youngster in her. They play endlessly. A little rough, but they know their limitations. He is very lovable and loves to jump on the couch to give me kisses. He likes to sleep on the bed. He is a big success case in my eyes!!
Phoebe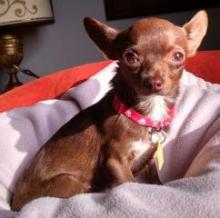 Phoebe... Three precious pounds of trembling, terrified and oh, so sweet little girl came to Woof Rescue from the Los Banos Shelter on January 2015. Phoebe was so scared, she would hide under anything available. Scared of people who we think abused her, Phoebe's angels were the other dogs in her new home. Phoebe felt right at home with them. Kissing faces, ears anything. Before long she was playing with each one. Tiny, timid and shy with people --when it came to dogs, little Phoebe was a happy ball of never ending energy. Also very brave when she caught a small garden snake in the yard. It took months but Phoebe now loves everyone in her home...people she knows and dogs. This brave little jewel of a dog has overcome her past and is now a happy five pound bundle of pure sugar. The sweetest dog ever. Phoebe never gave up trusting. Amazing. Phoebe now sleeps on her new Mom and Dad's pillow..snuggled close to them and her canine companions. She can sometimes walk around the block if it is very quiet and there are no sudden noises. She is still happiest playing with other dogs and at dinner time.